31 Mar

Popeye (2021) | (Switch/PS4)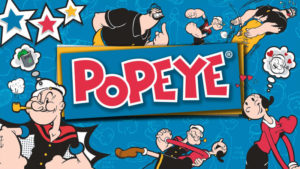 Frank hosts in this look at everyone's favorite and most lovable IP, Popeye. Who could forget the classic characters such as Bluto, Olive Oyle, Swee'Pea, and Wimpy. Well, we had, so Frank takes us through a 5-minute-film w/ Frank covering the entirety of 1980's Popeye starring Robin Williams and Shelley Duvall.
After that brief 5 minute detour, we launch into the game and discover platforming style gameplay without jumping, Freddy Kruger like stalking from the generic version of Bluto and hangman style puzzles that appear to all be an ode to classic Popeye games we never knew existed. Join us as we dive into the incomprehensible world of Popeye.
References:
Popeye Film
Switch Storefront page
Crappygames Miraheze
Metacritic
Wikipedia on Popeye games
Mobygames Listing
Prize Example (Lasercut):